We love coming together as a family to celebrate Jesus. Every year at the end of June we go away for an entire weekend to eat, sing, learn and pray together – it's always a fun and memorable time. This year over 100 of us gathered at gorgeous Camp Sunrise on the Sunshine Coast.
So What Did We Do?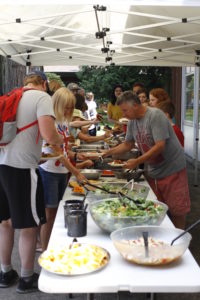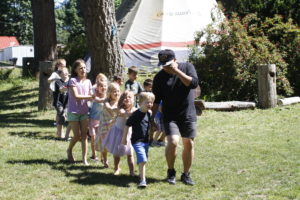 Mornings and evenings we worshipped God together and engaged with passionate and insightful teaching from Jeremy Simpkins, John Payne and Rhys Scott. You can listen to those talks here. The kids worshipped with us and then went off to engage with God in fun and age-appropriate ways, guided by our brilliant Kids Church volunteers.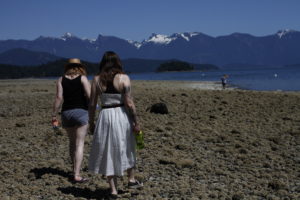 Saturday afternoon was for relaxing: people chatted, played games, swam in the camp's pool and explored the beach, just spending time in the amazing BC wilderness. The more competitive types played volleyball and tested their mettle in the Amazing Race. Saturday night after the evening session we gathered at the fire pit for our annual Trinity Central Talent Show, which was alternately hilarious and extraordinary. Trinity Central's got talent!
What Did We Experience?

Every year God does some amazing things while we are all together and this year was no exception: people publicly committed their lives to God by being baptized, and many experienced God's blessing and healing through prayer ministry.
As always, one of the highlights of Thirst was enjoying the company of our good friends Jeremy and Ann Simpkins. Jeremy leads ChristCentral, a family of churches within Newfrontiers, which is the wider network to which Trinity Central belongs. This year, the Simpkins brought along several members of the ChristCentral apostolic team including Ginny Burgin (and her husband, Stewart) and John Payne from the UK. We were richly blessed by Ginny's prophetic gift and John's personal vulnerability in his teaching.
Thirst 2018: June 22-24
Thirst 2018 is not to be missed so be sure to save the dates. Thirst is a unique opportunity in our busy lives to devote an entire weekend to seek God and be together. This year we are extremely excited to welcome Terry and Wendy Virgo to Thirst along with the Simpkins. Terry is the founder of New Frontiers, a movement which now extends to over 1500 churches in 60 nations across the world. He's most well known for his life-changing teaching on our Father's wonderful grace towards us in Jesus Christ. You can check out his website here.
We would love to see you there!