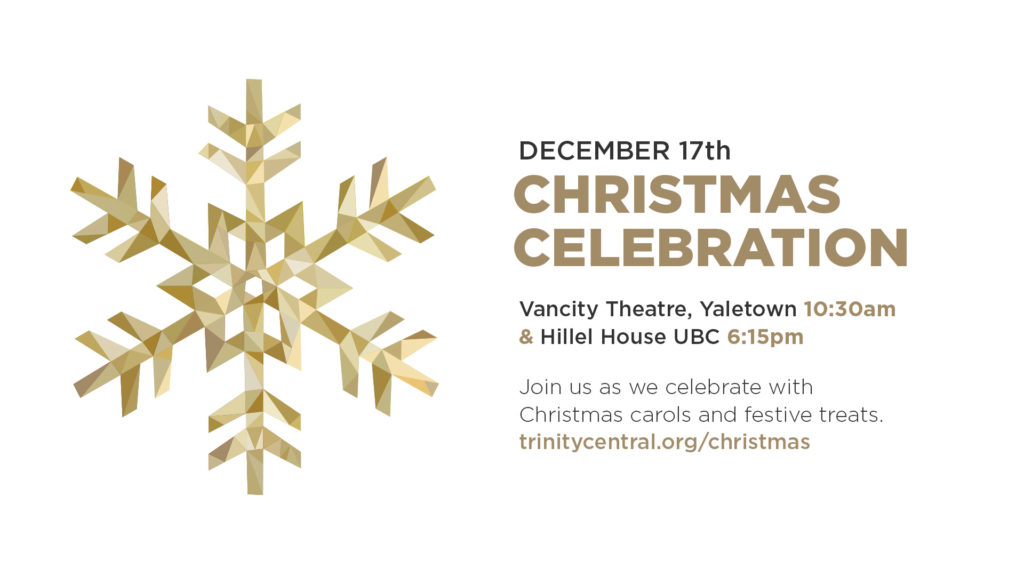 Looking for a Christmas carol service in Vancouver?
Love Christmas? Love Carols? Then join us and celebrate Christmas with a morning of Christmas Carols at Vancity Theatre in Yaletown, Vancouver on December 17th at 10:30am.
Fancy evening carols? No problem, we will be doing an evening carol service at Hillel House on UBC campus starting at 6:15pm.
Christmas is a wonderful time for celebration and worship, as we remember together the wonderful story of Jesus' birth. Join us for a special carol service, where we'll worship Jesus with a mix of traditional carols and modern songs. Our Christmas choir will be there, and before the services we'll have festive refreshments together.
What time do things kick off?
The morning Christmas carols will start at 10:30 pm, and we finish around noon.
Evening carols will begin at 6:15pm and wrap up about 8pm. Refreshments will be served about 15 minutes prior to each service.
Who's welcome?
Everyone! And if you are coming to Trinity Central alone or for the first time  and would like someone to meet you please get in touch with us and we'll arrange for that.
What about children?
They're welcome too, so make sure no one's left at home! ***Please note that although a "quiet room" will be available during the morning service no supervised childcare will be provided at either service***
How do I find Trinity Central Christmas carol service?
The morning carol service will be held at the Vancity Theatre at 1181 Seymour Street Vancouver, BC V6B 3M7. The building is on the corner of Seymour and Davie, opposite Emery Barnes Park, in the heart of Yaletown.
The evening carol service will be held at Hillel House at 6145 Student Union Blvd, Vancouver, BC V6T 1Z1. This is located near the Walter Gage student residence and within walking distance of the main UBC bus loop.

---