In June 2015 Trinity Central took on James Vander Woude as a second full time elder. So we asked James a few questions, to find out a little more about him!
Hi James – give us a brief intro – who is James Vander Woude?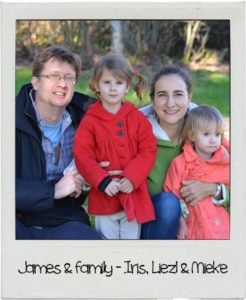 James Eelco Vander Woude, born to Eelco & Gerda in Amsterdam on September 17, 1973, the youngest of three boys. My parents had met at college in Michigan and moved to Amsterdam to study. I grew up a PK (a pastor's kid) – my dad was a part-time associate pastor at a church in Weesp, near Amsterdam, and then when we returned to Canada in 1978 he pastored a Christian Reformed Church in Edson, AB.
In 1985 we moved to Salmon Arm, BC, where dad pastored another church. During that time he developed a malignant brain tumour which necessitated surgery, and he had to stop working. We moved to the Lower Mainland in 1989 (initially to Surrey then settled in Langley) so that he could be close to Vancouver General Hospital where he was being treated.
I studied for a History B.A. at The King's College in Edmonton, AB, and following that had a varied career including – a labourer, truck driver, warehouse order picker, shipping clerk, gas station attendant, landscaper – and also went to Driving School (for commercial truck licence) and Journalism School!
By 2001/2002, I was desperately seeking freedom from the bondage I was in (largely pornography). God made some big changes in my life – he released me from that bondage and restored relationships and joy to me. I realised that I was not in fact required to stay where I was (working in a shipping department in Surrey) and decided to go teach English in Asia. Through a missionary contact of my mother's I ended up getting an interview with a language school in Kaohsiung, Taiwan. I taught there for 5 years, and while there I was part of a vibrant international church – and that is where Liezl and I met and fell in love.
Can you tell us how you became a Christian?
I had one of those 'invisible' conversions. I have always believed (as far as I can remember) that Jesus is both God and my saviour. However, it is fair to say that for many years I was not seriously committed to following Jesus. For many years after I moved from home I was not part of a local church. It was in 2002, when I was struggling to overcome the power of sin and addiction in my life that, through the power of God, I felt incredible healing and restoration in my emotions and my relationships. At that point I determined to follow after Jesus as best I could, and in the words of Hebrews 12 "throw off everything that hinders and the sin that so easily entangles. And let us run with perseverance the race marked out for us, fixing our eyes on Jesus, the pioneer and perfecter of faith."
It was at this point that I moved to Taiwan and connected with the Bread of Life international church in Kaohsiung. That was my first adult experience of really being knitted in to a local body of believers. God provided for me amazingly in terms of a wonderful church, a great lifegroup, and real Christian friends who were on mission and who could encourage and challenge me.
How did you then get connected with New Frontiers, and what lead you to Vancouver?
After marrying in 2005 we stayed in Taiwan two more years, eventually moving to Fredericton, NB in 2007 with our Taiwanese dog, Thandi, so that I could go to Law School at UNB. This is where we got connected to what was then called The Meeting Place (now Christ Central Church), then the only New Frontiers church in Canada. On our first Sunday we were invited by our apartment building supervisors to their church, which was lovely but didn't seem like the place God had for us. A few days later we were walking downtown and Liezl noticed "The Meeting Place" church sign. We googled it later, and I recognized (vaguely) New Frontiers – I had had some exposure to New Frontiers and Terry Virgo through the blog of a guy called Adrian Warnock. Anyway, that was enough for us to check it out, and we loved it.
We felt very welcomed very quickly. We respected and trusted the leadership of Joe Crummey and Gary Gallant (the two elders at that time). We joined a "newcomers" life group that was led by Joe and his wife Ange, and that was a wonderful experience. We loved the reality of a church that had great community, vibrant worship, and valued both Word and Spirit.
After law school the only job I could find was at a law firm in Saint John, a city a little over an hour's drive away. So we moved, and joined a local Baptist church for two years. When we left The Meeting Place in 2010, we felt like we were only leaving for a time, not permanently. We felt like New Frontiers was our home.
Shortly after Iris came along in 2011,  Rhys and Sara visited us and asked us to consider joining the church plant in Vancouver. We initially declined because I had just started a new job – but the prospect of returning to be part of a New Frontiers church (and one lead by Rhys & Sara!) was very exciting; eventually we believed that God was in fact calling us to be a part of Trinity Central. We also thought it would be great to live closer to my mom, who lives in Surrey. We had planned to move to Vancouver anyway, but God accelerated the timeline considerably! In the summer of 2012 we moved to Vancouver. Mieke was born in December, so she is one of the Vancouver natives in our church!

Leaving a career as a lawyer to become a full time church leader is a big decision. Can you describe a little about that process?
Sure. I think that growing up as a pastor's son, I had seen the good, bad and ugly of church leadership. I was certain I did not want to be a "pastor" of a congregation as I understood the position. I simply did not feel a call from God. However, my experience as part of a team leading the church in Kaohsiung, and then my experience with Joe and Gary's plural leadership / eldership at The Meeting Place changed my perspective on church leadership entirely. I had also become quite passionate about the local church since 2002 which was a real game-changer.
Anyway, I had some exploratory conversations with Jeremy Simpkins and Rhys a couple years ago about potentially (one day) leaving the law to serve the church full time at some point – providing I became an elder in the first place of course!. To my surprise, I was quite excited by the possibility. I began discussing it with Liezl, and over a period of time, through discussion and prayer, we agreed that we both felt God was calling us to this as a family. It's taken some time to actually come to pass, but here we are!
What have been some of your best memories and experiences as part of Trinity Central life?
The first Sunday – it was at the Roundhouse. I can't remember who led worship or even who preached, although I think Ben hosted. Liezl and I just so appreciated the Spirit-led worship, and everybody's friendliness, enthusiasm and sense of unity and purpose. It was a world away from what we had been experiencing the past couple of years and it felt like home. After the service Ben and Rebs prayed for us and gave us a prophetic word, which we found super encouraging and which we are still working out.
I just love worshipping together as a church in the various contexts – Sunday mornings, prayer meetings, life group, Thirst… there's nothing better.

What would you say are your strengths?
Sense of humour,  structured thinking, teaching ability, teachability, photocopying, loyalty, not caring too much about others' opinion of me… and hopefully not caring too little either (ask Liezl how I'm doing with that!)

I've been told that you're a secret Oilers fan – do you think that's an acceptable thing for a Vancouver elder?
I grew up in northern Alberta, which is Oiler country, so I come by my allegiance honestly. The Oilers were an extraordinarily good team for the first 10 years I cheered for them, which certainly helped. I can't really conceive of cheering for another NHL team.
With a couple of exceptions, the Oilers have been pretty terrible for about 25 years, so I find that I've learned a lot about suffering, patience, and hope – of course, not to the level of Canucks fans, bless 'em. The Canucks have never won anything in 45 years of existence which is rather remarkable – even Israel got there after 40 years! Now it looks like the Oilers are going to be good again and the Canucks are gently sliding into mediocrity so the proper balance has been restored.

What are your prayers & hopes for Trinity Central? What would you like to see in 5 years or 10 years from now?
A wonderful unity of the Spirit as we go passionately after God and bring others along with us. Being known in Vancouver as disciples of Jesus (because of how we love one another).
Regularly seeing people who don't know Jesus come to know, love and serve him, and seeing those people set free of all their injuries and bondage so that they love Jesus with all of their hearts, mind and strength. Seeing this happen again and again and again so that it would be shocking if it didn't happen at least weekly.
5 years: A thriving, growing body that is planting out its best people all over the Lower Mainland, into the Valley and western Canada. Trinity Central owns its own building / facility, free and clear. A work for the poor and marginalized established and maturing.  A business enterprise begun that is synergistic with the goals of the church.
10 years: Trinity Central a hub of training and discipleship as the churches we have planted in turn begin to plant other churches. Thousands of people coming to Thirst every year. First plants to Asia and the Americas being planned.
Tell us 5 facts about you that no one would know.
Tricky… Liezl knows at least some of these ones, although she may have forgotten a few.
I was arrested, for the first and (hopefully) last time, at the tender age of nine years old for shop-lifting a packet of hockey cards from a fine establishment known as the "Poppe Shoppe". This decisively ended my then-flourishing criminal career.
I really like airplanes. If I'm not working or spending time with Liezl and the kids, you're as likely as not to find me reading a book about airplanes.
Up until the age of 11 or so, I was exclusively known as "Jamie". (google "the bionic woman" and you'll know how I suffered in elementary school).
I used to cry when I played Monopoly with my family and lost, which was most of the time.
My favourite song is "Regret" by New Order. Which is odd, because I'm not a big New Order (or electronic dance music) fan, but there it is.