by Danielle Earle
If you and I have had any kind of in depth conversation over the last 9 months or so you will know that I sure do bring up
School of Leadership
all the time. School of Leadership (SOL) has been AMAZING in many ways: it's encouraged me, challenged me and changed the way I approach the Bible, view God, see myself, and understand the world around me. It has been a catalyst for serious growth in my faith.
If it's done all that for me, maybe it can do that for you, too. Here are three reasons why I think you should consider signing up for the September intake of SOL:
FRIENDSHIP & FELLOWSHIP
Some of my closest friendships have formed in SOL over the last few months. I've befriended people who are in different life stages, have different gifts and skills, and who have different challenges – indeed, finding this diversity has helped me better understand my place in our wider church community. Every time we get together we have deep conversations about life, our mission, who we are and who God is, and His plan for this world. These times have been convicting and encouraging and they have grown me beyond what I even thought was possible.
FAITH
If there is one thing I've learnt since starting SOL it's how little I actually knew or understood about the Bible. I grew up going to Sunday school and have been a Christian for over a decade, and yet, there is so much to learn. It is so exciting to dig deeper into the wealth of the Bible: its context, cultures and so on. Without a doubt, SOL will help you better understand how incredibly amazing the Bible's actual existence is, how to read it so you can fully understand the context and weight of it, and how profound the gospel truly is. It seems like every time we gather I have a new revelation.
FUTURE
For the past year I have attended School of Leadership once per month (there are 20 sessions over two years with a break in July and August). These 10 days over the course of one year have changed the trajectory of how I move forward in this life. SOL has given me the tools I need to read the Bible, worship, pray, interact with the lost, and trust for healing. Exploring biblical history has better helped me understand my place in this very moment in history and how I can live life to the absolute fullest on this mission of making Jesus known among the nations. Best of all, SOL has given me new friends to walk with as we live out God's purposes.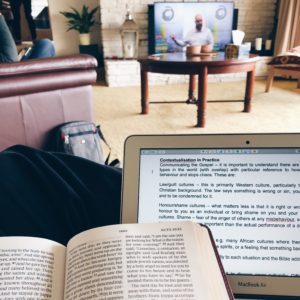 But don't just take my word for it. Here is what some present and past SOL students have said:
Emy Lou Berry:
My favourite things: 1. The discussion times. I often got the most out of them as they were when I got to chew through some new and old beliefs and sort through the truth and the somewhat/totally twisted views I had. Also, it was so practical and helpful. 2. We got to go over the Old Testament and for the first time I saw how it was a story with a redemption story being drawn out of it all along. Growing up I studied the Bible in great detail and depth, and had often found it to be disconnected and hard to understand the purpose and themes of it – SOL helped me understand that this was not the case! This was so interesting and helpful for me. 3. We would always pray beforehand which was hard to get into but it was so good and so necessary.

Steve Jones:
School Of Leadership helped me to appreciate the overall story and themes of the Bible, and has given me tools to better understand and apply passages from anywhere in scripture. The teaching was excellent, and the discussions were an excellent way to explore the topics in more depth and to work out how I should respond to what I've learnt.

Jessica VanderEyk:
My favourite part about SOL was learning to read the Bible as one great connecting story of God acting throughout history to redeem and rescue the creation He loves – not to read it in parts but as a whole. My understanding of God and His character grew during this time and He revealed Himself to me in ways through His written Word that I had never seen before despite reading the Bible since childhood.

Joseph Tinlin:
Rhys' leadership of our discussion times in terms of applying the course content both generically and in our specific Trinity Central context has for me been a very valuable part of the course that has tied it up together and helped me make sense of it.

Emma Marsh:
I've loved going deeper into the Word of God, having time to discuss, in depth, different aspects of it. I've found SOL has opened my eyes afresh to the wonder, greatness, and sovereignty of God and His heart/plan for His people, the church. It makes space to explore this and helps you think, together with your group, how it applies to life, church and leadership.
If you would like more information regarding School Of Leadership, please email Robina Cousins at robina@trinitycentral.org, or sign up here.