by Milly Jones


I recently spent a rainy fall afternoon hanging out with my friend Ash. It was just after Thanksgiving, and Ash had spent the weekend with her husband's family. Along with the usual things – turkey dinner, tractor racing, starting early on the eggnogg – the family had also spent an afternoon packing Christmas Shoeboxes.
"Last year we did 50 boxes; this year we upped it to 100! We split it up so that one person was responsible for all the stuffies, someone else got the toiletries and someone else the stationery. It was such fun!"
If you've not come across them before, a Christmas shoebox is a literally a shoebox full of gifts for a child. The charity Samaritan's Purse is one of many organisations that does shoeboxes, through their annual Operation Christmas Child. These shoeboxes then get sent around the world, to be given out to children living in poverty, famine or war.
Ash has been packing Christmas Shoeboxes since she was a child.
"We did it with our church. Every fall the boxes would come, each family would take one home and we'd pack it together."
And she might have continued happily packing one box a year, had not her brother, who works for Samaritan's Purse, got in touch with her one day.
"My brother obviously knew I was interested in shoeboxes, so he contacted me to say they were planning a trip, and did I want to go with him. I was like 'YES!'"
So in February 2016 Ash flew to Trinidad and Tobago to see for herself what happened to a shoebox after it had been packed and handed in. I wanted to know what trip had shown her.
"I learnt that it's not just about a shoebox, or even about Christmas. It's so much more. For starters, they don't even get the boxes at Christmas. It's all about these kids, who have so little, receiving a gift, maybe for the first time in their lives.

The Samaritan's Purse volunteers go into villages and schools. And they hand out shoeboxes to each child – but they don't open them straight away. The volunteers tell them a little bit about Jesus and how God loves them so much that He gave them the greatest gift ever – Jesus. Then they tell them that someone out in the world loved them too and packed this gift for them. And then on the count of 1, 2, 3 they all open their boxes together. 

The children are blown away by the fact that someone loved them enough to give them these gifts. It opens them up to want to know more about Jesus.The kids are invited to do a 12 lesson Bible study course  called The Greatest Journey, where they learn about Jesus; they don't have to do it, but many do and they end up coming to faith in him. And it's not just the kids – they go home and tell their families, and they also come to know Jesus."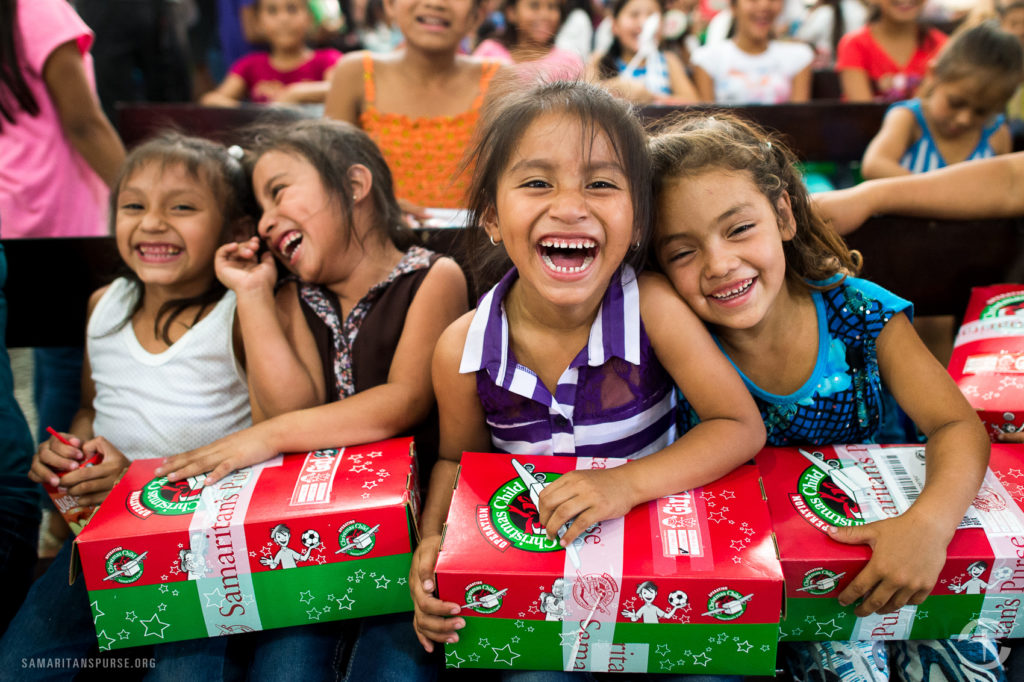 Ash's enthusiasm is infectious, and as she described her trip it was clear to see it had had a huge impact on her. I asked her if she felt she changed when she got back.
"Totally. Now when I'm packing a box, I no longer see just a shoebox. It's a seed that God will plant, that could change a child's life, their family's, maybe a whole village or even a nation."
"It's really great; as the volunteers are handing out boxes they ask the kids what they're hoping for. And if they're open to it, they'll pray together and ask God for it. I heard lots of kids saying the thing they wanted most was their own toothbrush or a plastic cup to drink from. And stuffies of course! It was so humbling to think that these kids just wanted something so small and easy, and that receiving it could make such a difference to them. "
Samaritan's Purse encourages anyone packing a shoebox to pray about what to pack. When the boxes go to the distribution centre, there are volunteers who sort through the boxes – they have to check that nothing has been packed that shouldn't be (Samaritan's Purse provides a list of items that should not be packed, for reasons such as import restrictions, or health and safety etc.). But the volunteers are told, if they see something 'unusual'  then to leave it – because they trust that it was God who inspired the giver to pack it.
"I heard some great stories about these gifts. For example one kid got orthotic insoles – and they were exactly the right size for their feet. Another child had a pair of magnifying reading glasses in her box – which was perfect because she'd been having trouble reading her lessons on the school blackboard. One little boy received a toothbrush and also medicated toothpaste – perfect because his teeth were rotting and needed extra care.
"Sometimes the gifts are so emotional for the children. For example, two young boys cried when they opened their boxes. The first boy was overwhelmed at finding a piece of chalk in among his gifts; it turned out in his school his teacher had lost the only piece of chalk the school had, so they'd had no classes since then. Now he had chalk to take to school so their classes could continue. 
"The second boy received a hammer and tool kit – not a toy one, but a real kit. His family was really poor, so their living conditions weren't great – the house he lived in kept needing repairs. This boy's dad would send him round to their neighbour's house each time, to ask to borrow their tools, because he was too embarrassed to go himself. The boy was so thankful when he saw the tool kit, because his dad wouldn't have to be embarrassed anymore."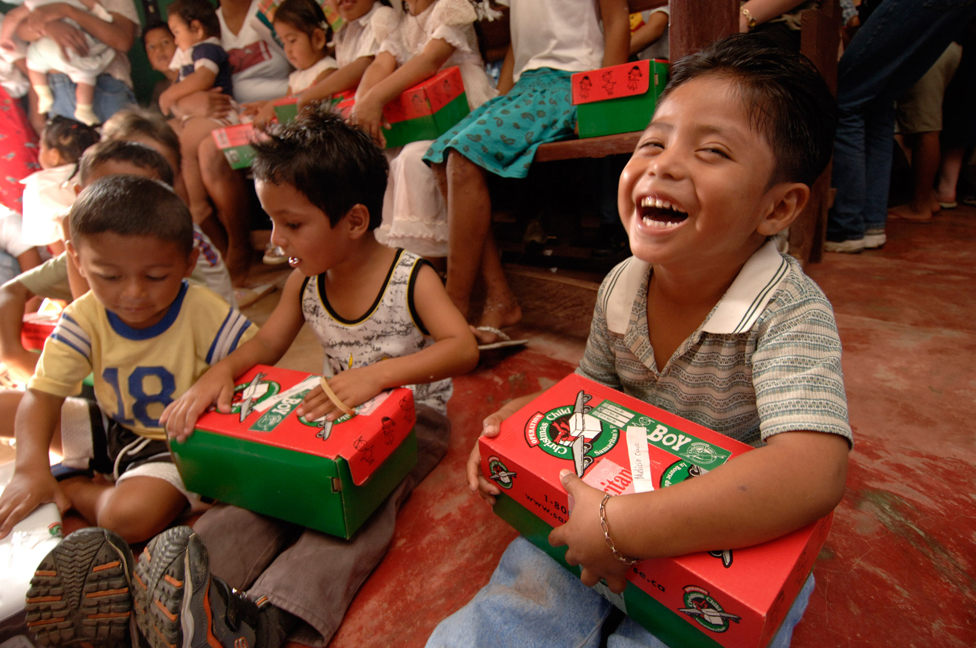 It's clear from hearing these stories and many more, that Operation Christmas Child is about far more than a simple shoebox. Even as I was chatting with Ash I too was getting excited, and jotting down ideas in my notes for things to buy for my box this year! How amazing that the simple act of giving a gift to a child we don't even know, could be the start of God opening their hearts to Him!
Thinking about someone who has never packed a Christmas shoebox, I wanted to know why Ash thought they should do it.
"Why not?! It's so easy; just head to the dollarstore, you could spend maybe $20 on a bunch of simple gifts. It's great fun thinking about what to pack in. And if you have kids, it's a great way to teach about generosity, that not everyone has the same things as us and so on.  
"And that small thing you do – God will multiply. It's amazing what the Holy Spirit will do with our tiny offering of a shoe box!"
"Operation Christmas Child is a hands-on project that brings joy and hope to children in desperate situations around the world through gift-filled shoeboxes packed by Canadians. It is one way to remind children suffering as a result of war, poverty, famine, disease, and disaster that they are loved and not forgotten."